MOBILE FRONTLINE HOSPITALS
Works directly
at the front
The mobile hospital is a full-fledged hospital on wheels, equipped with modern medical equipment. The medical center allows you to provide emergency surgical intervention directly near active hostilities.
Reception– hydraulic observation couch, rechargeable observation lamps on wheels, ophthalmoscope, instrument table, urns.
Laboratory – autoclave, centrifuge for blood, centrifuge for urine, freezer, observation couch, observation lamp, glucometer electronic, hematological analyzer, hemoglobinometer, a thermal welder for sterilization of bags, microscope, commercial refrigerator.
X-ray room– X-ray table, X-ray machine, protective equipment, X-ray viewing boxes, ultrasound machine.
Operating room– defibrillator stationary, apparatus for diathermy, portable infusion pumps, instrument tables, laryngoscope, operating table, lamps for shadowless light with batteries, aspiration pump, anesthesia machine, garbage cans, stool adjustable with back, resuscitation trolley.
Technical room
Toilet and shower
UAH, the cost of a fully equipped mobile hospital.
Our additional destinations
Theoretical and practical training in areas that are vital during active hostilities: 
Bleeding control; Bleeding is the leading preventable cause of injury-caused death. Therefore, this course aims to teach people to save the lives of those injured by bleeding before the arrival of medical workers at the scene;
Chemical, Biological, Radiological, Nuclear, and Explosive Hazards (CBRN).  This course equips participants with the knowledge and skills to care for victims of CBRN attacks in pre-hospital settings. Also, the course includes training in decontamination, medical care, antidotes, and dressing/removing PPE.
THE HOSPITAL IS EQUIPPED WITH EQUIPMENT TAKING INTO ACCOUNT THE SPECIFICS OF FRONT-LINE WORK TOGETHER WITH FIELD MEDICAL GROUPS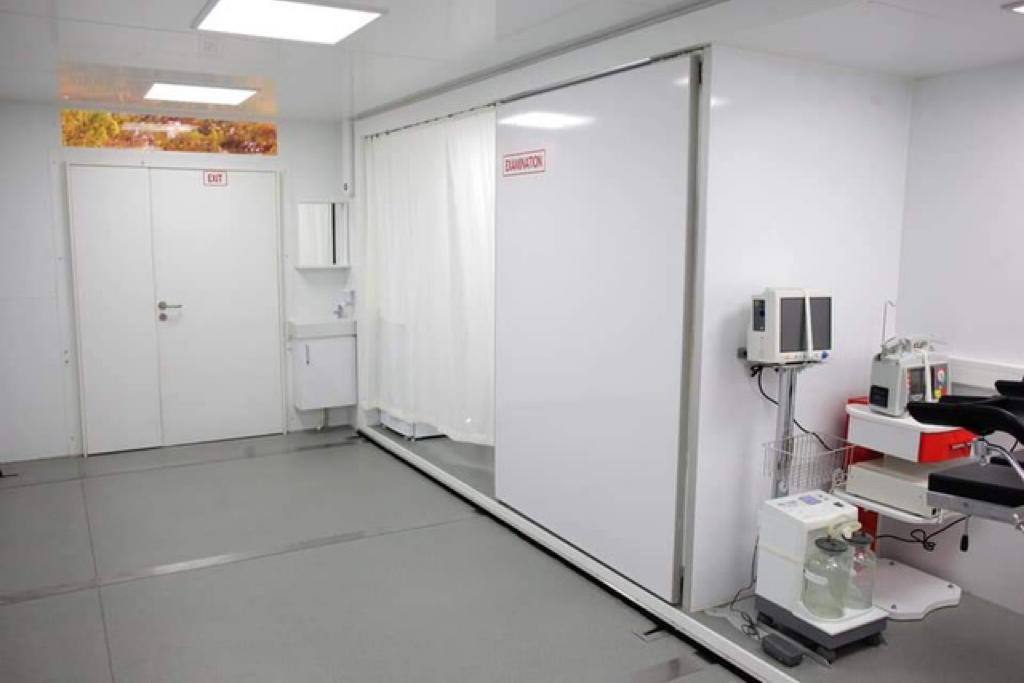 Manipulation room with sliding elements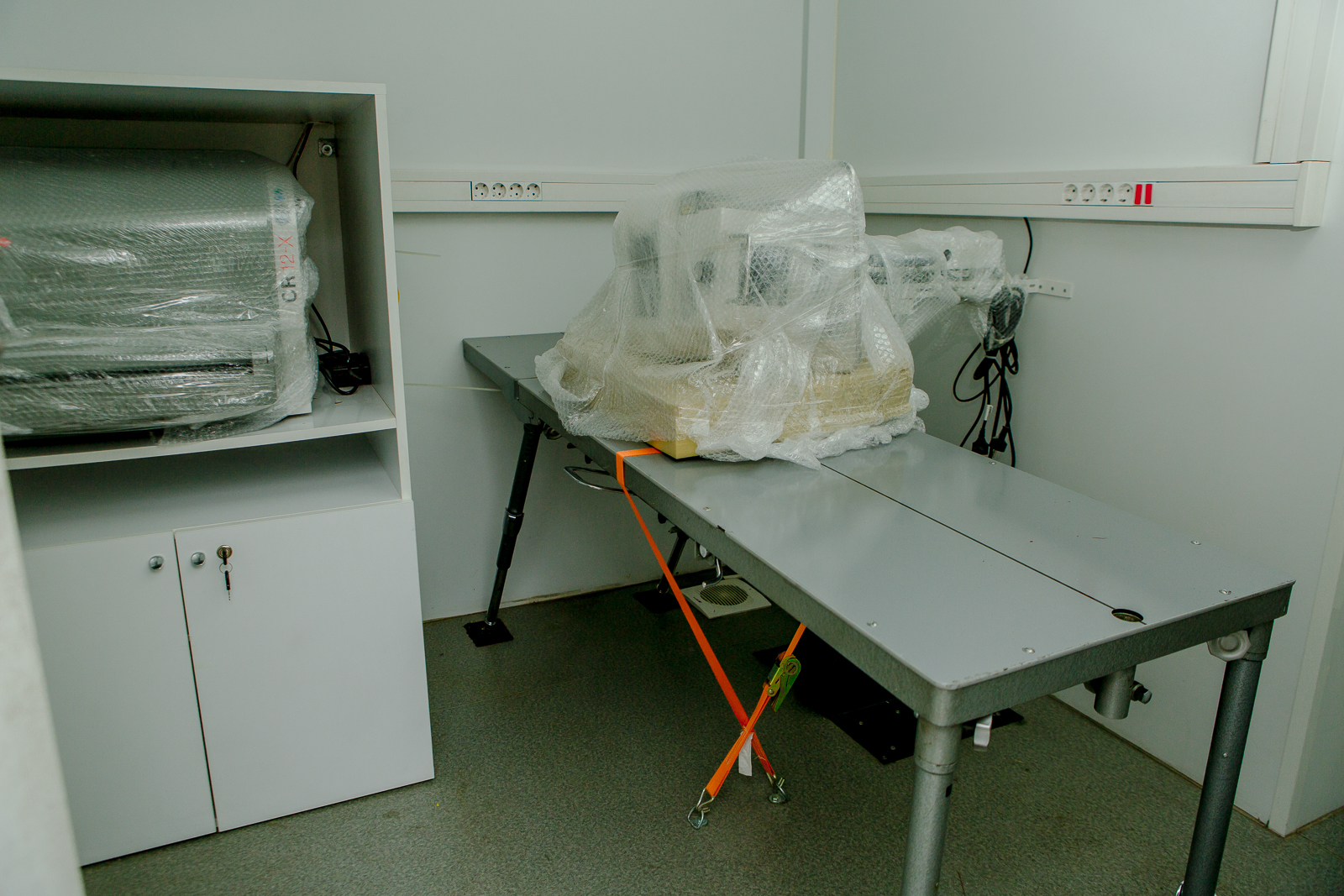 The mobile x-ray is fixed on the manipulator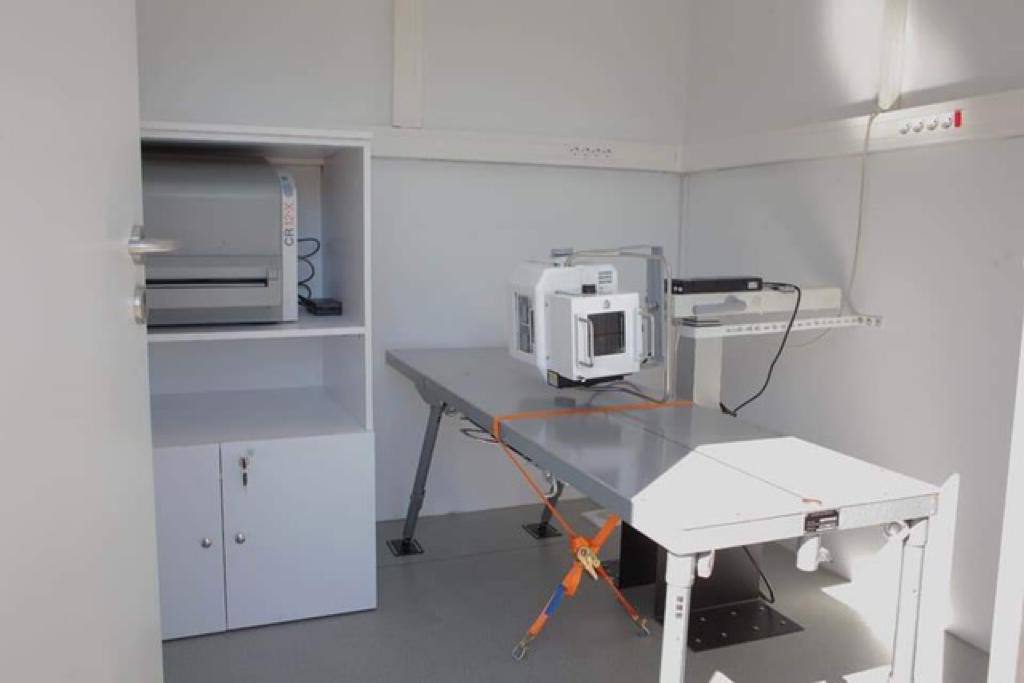 X-ray room with couch and additional analyzers
Deployment speed 10-15 min.
The full start of work, which is provided by a 65 kW diesel generator, takes 10-15 minutes. The system can also be operated from the power grid.
Reviews
of military and experts
According to the serviceman of the Armed Forces of Ukraine Danylo Goncharenko, who has three wounds, due to the change in the operational situation at the front, the need for mobile hospitals capable of providing full-fledged medical care directly on the front line has increased significantly. At the same time, another participant of the press conference, lawyer and serviceman Sergei Petkov, emphasized their importance not only during active hostilities – after the victory, they can continue to work in the elimination of the consequences of man-made disasters, accidents, and terrorist attacks. "If such a mobile hospital was in Dnipro on January 14, it would be possible to save more people before they are sent to hospitals, providing them with timely assistance on the spot," he said.
• Danylo Goncharenko
serviceperson of the Armed Forces of Ukraine
• Sergei Petkov
serviceperson
FULLY EQUIPPED MOBILE FRONTLINE HOSPITALS